Secondary postpartum hemorrhage: a review of the literature
Keywords:
puerperium, secondary postpartum hemorrhage
Abstract
Postpartum hemorrhage (PPH) may occur shortly after delivery or, less often, days later. The most common causes of secondary PPH are retained products of conception, subinvolution of the placental bed, and/or infection. The etiology of secondary postpartum hemorrhage is diverse and management is dependent on identifying the cause and tailoring treatment appropriately. The main aims of treatment are to provide basic resuscitation, establish a cause for the bleeding, and tailor the treatment (medical and/or surgical) according to the cause. Sometimes the cause cannot be determined. Surgical procedures (dilation and curettage, suction curettage) are often effective when medical management fails.
References
1. Belfort MA. Secondary (late) postpartum hemorrhage. Available from: https://www.uptodate.com/contents/secondary-late-postpartum-hemorrhage?source=contentShare&csi=2ab18ef1-37eb-4e16-a5e4-3652600bc911 [Accessed 15th March 2017].
2. American College of Obstetricians and Gynecologists. ACOG Practice Bulletin: Clinical Management Guidelines for Obstetrician-Gynecologists. Obstet Gynecol. 2006;108(4):1039-1047.
3. Dossou M, Debost-Legrand A, Déchelotte P. Severe secondary postpartum hemorrhage: a historical cohort. Birth. 2015;42(2):149-155. doi: 10.1111/birt.12164.
4. Neill AC, Thornton S. Secondary postpartum hemorrhage. J Obstet Gynaecol. 2002;22:119-122.
5. Alexander J, Thomas P, Sanghera J. Treatments for secondary postpartum hemorrhage. Cochrane Database Syst Rev. 2002;(1):CD002867. doi: 10.1002/14651858.CD002867.
6. Hoveyda F, MacKenzie IZ. Secondary postpartum haemorrhage: incidence, morbidity and current management. BJOG. 2001;108(9):927-930.
7. Marshall AL, Durani U, Bartley A. The impact of postpartum hemorrhage on hospital length of stay and inpatient mortality: a National Inpatient Sample-based analysis. Am J Obstet Gynecol. 2017;217:344.e1-344.e6. doi: 10.1016/j.ajog.2017.05.004.
8. Nanjundan P, Rohilla M, Raveendran A. Pseudoaneurysm of uterine artery: a rare cause of secondary postpartum hemorrhage, managed with uterine artery embolisation. J Clin Imaging Sci. 2011;1:14. doi: 10.4103/2156-7514.76692.
9. Yun SY, Lee DH, Cho KH. Delayed postpartum hemorrhage resulting from uterine artery pseudoaneurysm rupture. J Emerg Med. 2012;42(1):e11-14. doi: 10.1016/j.jemermed.2011.03.005.
10. Hayata E, Matsuda H, Furuya K. Rare case of postpartum hemorrhage caused by rupture of a uterine artery pseudoaneurysm 3 months after Cesarean delivery. Ultrasound Obstet Gynecol. 2010;35(5):621-623. doi: 10.1002/uog.7607.
11. Marnela K, Saarelainen S, Palomäki O, Kirkinen P. Sonographic diagnosis of postpartum pseudoaneurysms of the uterine artery: a report of 2 cases. J Clin Ultrasound. 2010;38(4):205-208. doi: 10.1002/jcu.20658.
12. Lausman AY, Ellis CA, Beecroft JR. A rare etiology of delayed postpartum hemorrhage. J Obstet Gynaecol Can. 2008;30(3):239-243. doi: 10.1016/S1701-2163(16)32760-8.
13. Aziz N, Lenzi TA, Jeffrey RB Jr, Lyell DJ. Postpartum uterine arteriovenous fistula. Obstet Gynecol. 2004;103(5Pt2):1076-1078. doi: 10.1097/01.AOG.0000123241.44401.01.
14. Yi SW, Ahn JH. Secondary postpartum hemorrhage due to a pseudoaneurysm rupture at the fundal area of the uterus: a case treated with selective uterine arterial embolization. Fertil Steril. 2010;93(6):2048-2049. doi: 10.1016/j.fertnstert.2009.03.099.
15. Gürses C, Yilmaz S, Biyikli S. Uterine artery pseudoaneurysm: unusual cause of delayed postpartum hemorrhage. J Clin Ultrasound. 2008;36(3):189-191. doi: 10.1002/jcu.20372.
16. Wang PH, Pang YP, Chao HT. Delayed postpartum hemorrhage in adenomyosis: a case report. Zhonghua Yi Xue Za Zhi (Taipei). 1998;61:492.
17. Wu MC, Hsu YP, Lin HH, Hsiao SM. Severe delayed postpartum hemorrhage due to a neglected uterine diverticulum: a case report. J Reprod Med. 2013;58(7-8):347-350.
18. Zubor P, Kajo K, Dokus K, Krivus S, Straka L, Bodova KB, Danko J. Recurrent secondary postpartum hemorrhages due to placental site vessel subinvolution and local uterine tissue coagulopathy. BMC Pregnancy Childbirth. 2014;14:80. doi: 10.1186/1471-2393-14-80.
19. Groom KM, Jacobson TZ. A comprehensive textbook of postpartum hemorrhage: an essential clinical reference for effective management. 2nd ed. London: Sapiens Publishing; 2012.
20. Mulic-Lutvica A, Axelsson O. Ultrasound finding of an echogenic mass in women with secondary postpartum hemorrhage is associated with retained placental tissue. Ultrasound Obstet Gynecol. 2006;28(3):312-319. doi: 10.1002/uog.2849.
21. King PA, Duthie SJ, Dong ZG, Ma HK. Secondary postpartum haemorrhage. Aust NZ J Obstet Gynaecol. 1989;29:394.
22. Ober WB, Grady HG. Subinvolution of the placental site. Bull NY Acad Med. 1961;37:713.
23. Kavalar R, Arko D, Fokter Dovnik N, Takač I. Subinvolution of placental bed vessels: case report and review of the literature. Wien Klin Wochenschr. 2012;124(19-20):725-730. doi: 10.1007/s00508-012-0219-9.
24. Pelage JP, Soyer P, Repiquet D. Secondary postpartum hemorrhage: treatment with selective arterial embolization. Radiology. 1999;212:385.
25. Park HS, Shin JH, Yoon HK, Kim JH, Gwon DI, Ko GY, Sung KB. Transcatheter arterial embolization for secondary postpartum hemorrhage: outcome in 52 patients at a single tertiary referral center. J Vasc Interv Radiol. 2014;25(11):1751-1757. doi: 10.1016/j.jvir.2014.05.009.
26. Hollier LM, Scott LL, Murphree SS, Wendel GD Jr. Postpartum endometritis caused by herpes simplex virus. Obstet Gynecol. 1997;89:836.
27. Rørbye C, Petersen IS, Nilas L. Postpartum Clostridium sordellii infection associated with fatal toxic shock syndrome. Acta Obstet Gynecol Scand. 2000;79:1134-1135.
28. Bitti A, Mastrantonio P, Spigaglia P. A fatal postpartum Clostridium sordellii associated toxic shock syndrome. J Clin Pathol. 1997;50:259.
29. Aldape MJ, Bryant AE, Stevens DL. Clostridium sordellii infection: epidemiology, clinical findings, and current perspectives on diagnosis and treatment. Clin Infect Dis. 2006;43(11):1436-1446. doi: 10.1086/508866.
30. Cohen AL, Bhatnagar J, Reagan S, Zane SB, D'Angeli MA, Fischer M, Killgore G, Kwan-Gett TS, Blossom DB, Shieh WJ, Guarner J, Jernigan J, Duchin JS, Zaki SR, McDonald LC. Toxic shock associated with Clostridium sordellii and Clostridium perfringens after medical and spontaneous abortion. Obstet Gynecol. 2007;110(5):1027-1033. doi: 10.1097/01.AOG.0000287291.19230.ba.
31. Jorup-Rönström C, Hofling M, Lundberg C, Holm S. Streptococcal toxic shock syndrome in a postpartum woman. Case report and review of the literature. Infection. 1996;24:164.
32. Gibney RT, Moore A, Muldowney FP. Toxic-shock syndrome associated with post-partum staphylococcal endometritis. Ir Med J. 1983;76:90.
33. Gibbs RS, Blanco JD. Streptococcal infections in pregnancy. A study of 48 bacteremias. Am J Obstet Gynecol. 1981;140:405.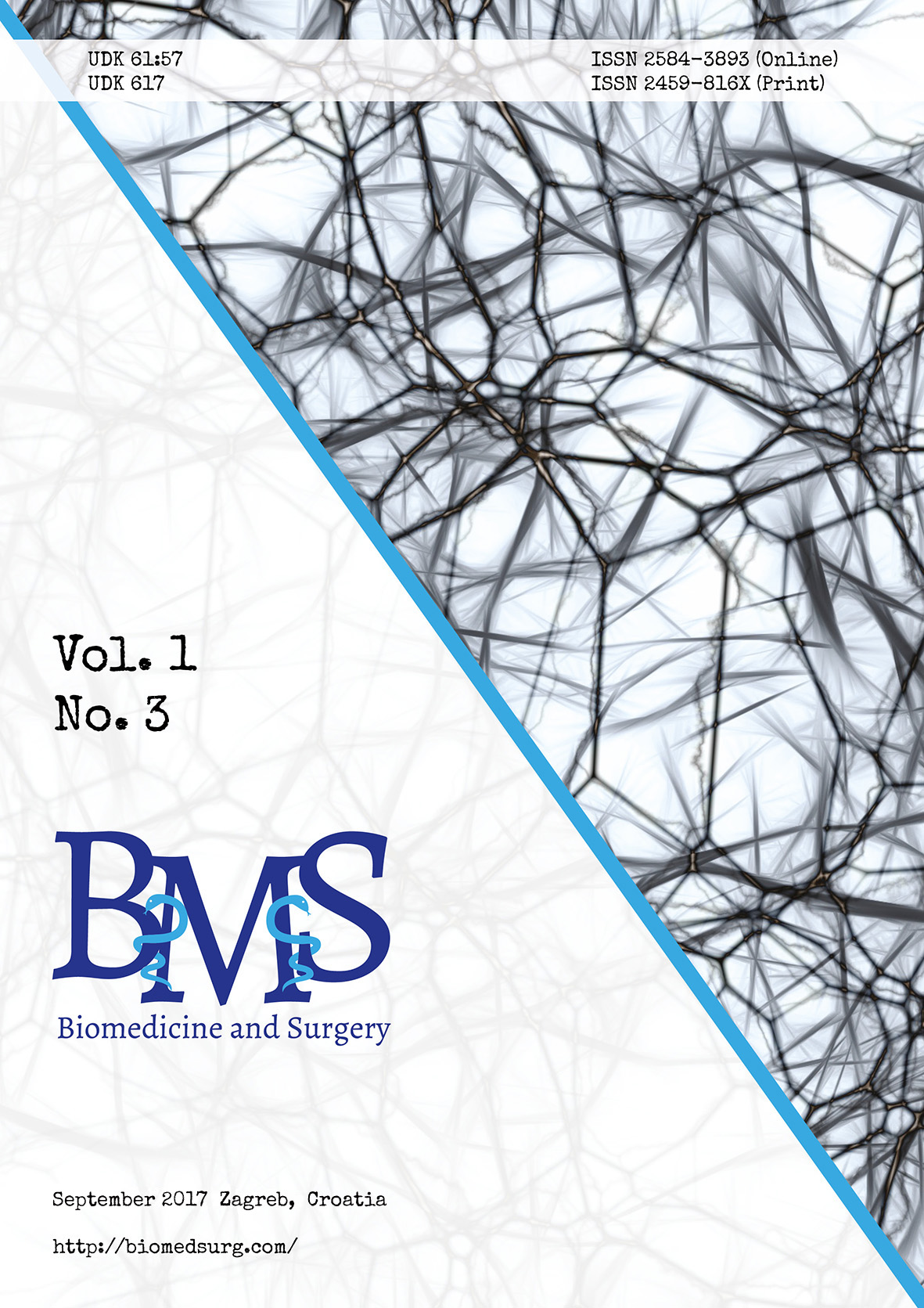 Downloads
How to Cite
Galic, T., Brkic, M., Dermit, K., Plese, I., Orlovic, M., Krznaric Lovosevic, A. M., & Blagaic, V. (2017). Secondary postpartum hemorrhage: a review of the literature. BioMedicine and Surgery, 1(3), 138–140. https://doi.org/10.5281/zenodo.1219223
License
Articles in BioMedicine and Surgery are published under Creative Commons Attribution-NonCommercial-NoDerivatives 4.0 International license. Full text of Attribution-NonCommercial-NoDerivatives 4.0 International license can be viewed at https://creativecommons.org/licenses/by-nc-nd/4.0/legalcode.