Quadruple primary neoplasms of the skin, colon, kidney and chronic lymphatic leukemia: a case report
Keywords:
colorectal neoplasms, renal neoplasms, chronic lymphatic leukemia, skin basal cell carcinoma
Abstract
Multiple primary neoplasms of different systems represent rare and clinically important entities. We present the 75-year old male patient in whom synchronous colon, renal and lymphatic malignancies (chronic lymphatic leukemia) were incidentally diagnosed 22 years after surgery for facial basal cellular skin cancer and 15 years after left lobectomy for follicular adenoma of the thyroid. Patient was admitted for the treatment of pneumonia. Incidentally, severe leukocytosis was found that persisted to treatment. Bone marrow biopsy showed chronic lymphatic leukemia. Due to microcytic anemia, colonoscopy was performed that revealed tumor in the ascending colon involving two thirds of the lumen. Subsequent abdominal imaging (ultrasound and CT) demonstrated large (7.7 cm) kidney neoplasm. Right hemicolectomy and left nephrectomy were performed. This represents the unique presentation of four primary neoplasms, underlying the need for more intensive use of screening methods in patients with previous malignancies. 
References
1. Nakayama H, Masuda H, Ugajin W, Nakamura Y, Akiyama K, Suzuki K, Amano S. Quadruple cancer including bilateral breasts, Vater's papilla, and urinary bladder: report of a case. Surgery today. 1999;29(3):276-279. doi: 10.1007/bf02483022.
2. Potzsch C, Fetscher S, Mertelsmann R, Lubbert M. Acute myelomonocytic leukemia secondary to synchronous carcinomas of the breast and lung, and to metachronous renal cell carcinoma. Journal of cancer research and clinical oncology. 1997;123(11-12):678-680.
3. Lynch HT, Thorson AG, McComb RD, Franklin BA, Tinley ST, Lynch JF. Familial adenomatous polyposis and extracolonic cancer. Digestive diseases and sciences. 2001;46(11):2325-2332.
4. Vasen HF, Mecklin JP, Khan PM, Lynch HT. The International Collaborative Group on Hereditary Non-Polyposis Colorectal Cancer (ICG-HNPCC). Diseases of the colon and rectum. 1991;34(5):424-425.
5. Horii A, Han HJ, Shimada M, Yanagisawa A, Kato Y, Ohta H, Yasui W, Tahara E, Nakamura Y. Frequent replication errors at microsatellite loci in tumors of patients with multiple primary cancers. Cancer research. 1994;54(13):3373-3375.
6. Masubuchi S, Konishi F, Togashi K, Okamoto T, Senba S, Shitoh K, Kashiwagi H, Kanazawa K, Tsukamoto T. The significance of microsatellite instability in predicting the development of metachronous multiple colorectal carcinomas in patients with nonfamilial colorectal carcinoma. Cancer. 1999;85(9):1917-1924.
7. Curran B, Lenehan K, Mulcahy H, Tighe O, Bennett MA, Kay EW, O'Donoghue DP, Leader M, Croke DT. Replication error phenotype, clinicopathological variables, and patient outcome in Dukes' B stage II (T3,N0,M0) colorectal cancer. Gut. 2000;46(2):200-204.
8. Kahn HS, Tatham LM, Patel AV, Thun MJ, Heath CW, Jr. Increased cancer mortality following a history of nonmelanoma skin cancer. Jama. 1998;280(10):910-912.
9. Hjalgrim H, Frisch M, Storm HH, Glimelius B, Pedersen JB, Melbye M. Non-melanoma skin cancer may be a marker of poor prognosis in patients with non-Hodgkin's lymphoma. International journal of cancer. 2000;85(5):639-642.
10. Hartevelt MM, Bavinck JN, Kootte AM, Vermeer BJ, Vandenbroucke JP. Incidence of skin cancer after renal transplantation in The Netherlands. Transplantation. 1990;49(3):506-509.
11. Gartenhaus R, Johns MM, 3rd, Wang P, Rai K, Sidransky D. Mutator phenotype in a subset of chronic lymphocytic leukemia. Blood. 1996;87(1):38-41.
12. Cullinane CA, Jarrahy R, Wilson TG, Ellenhorn JD. Asymptomatic renal neoplasms in the rectal cancer patient. The American surgeon. 2001;67(12):1162-1164.
13. Hajdu SI, Thomas AG. Renal cell carcinoma at autopsy. The Journal of urology. 1967;97(6):978-982.
14. Halak M, Hazzan D, Kovacs Z, Shiloni E. Synchronous colorectal and renal carcinomas: a noteworthy clinical entity. Report of five cases. Diseases of the colon and rectum. 2000;43(9):1314-1315.
15. Nishikubo CY, Kunkel LA, Figlin R, Belldegrun A, Rosen P, Elashoff R, Wang H, Territo MC. An association between renal cell carcinoma and lymphoid malignancies. A case series of eight patients. Cancer. 1996;78(11):2421-2426.
16. Travis LB, Curtis RE, Hankey BF, Fraumeni JF, Jr. Second cancers in patients with chronic lymphocytic leukemia. Journal of the National Cancer Institute. 1992;84(18):1422-1427.
17. Sakai A, Kawano M, Kuramoto A. Interleukin-6 produced by renal-cell carcinoma cells and progression of multiple myeloma. The New England journal of medicine. 1991;324(26):1893-1894. doi: 10.1056/nejm199106273242613.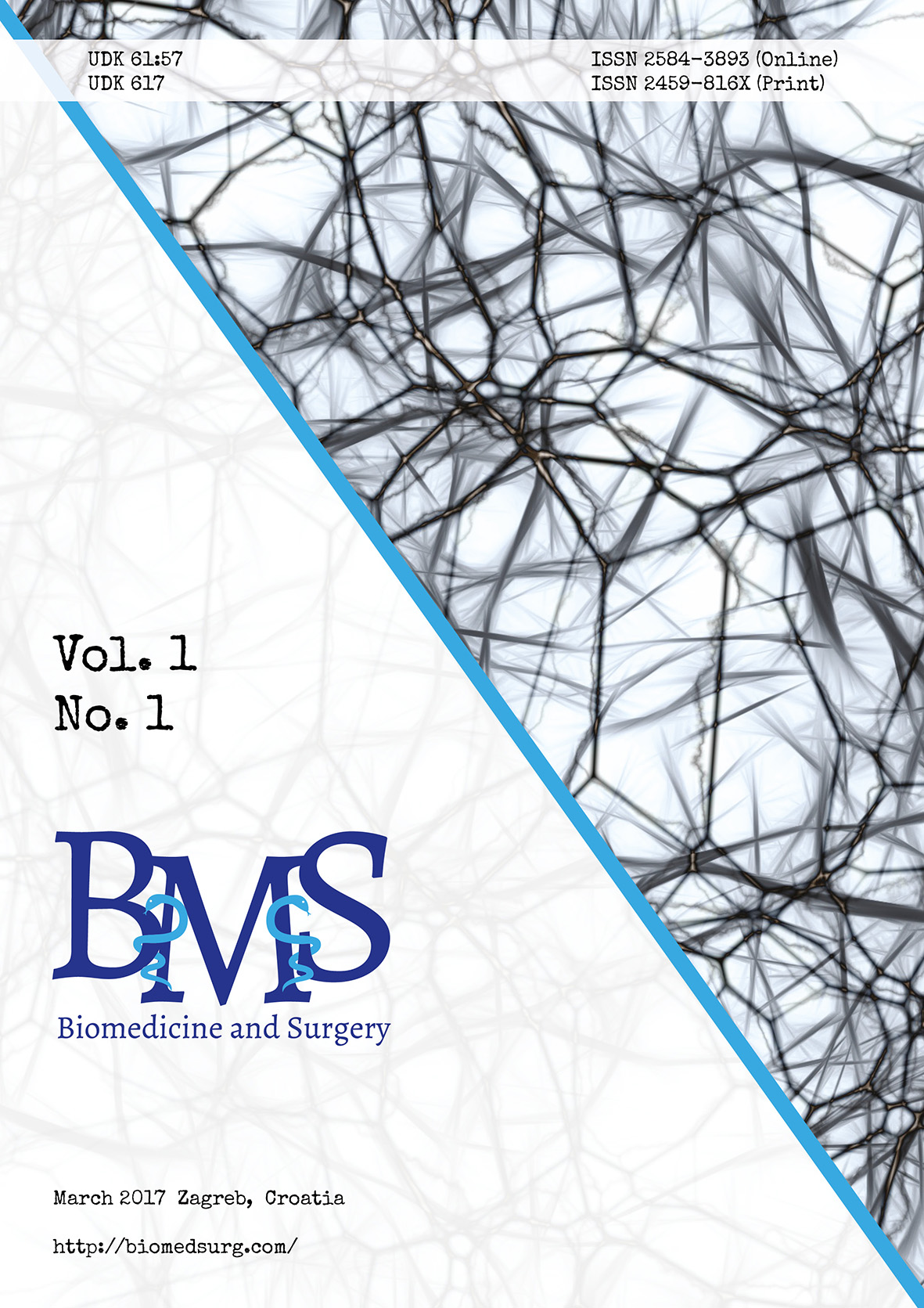 Downloads
How to Cite
Bilić, Z., & Glavčić, G. (2017). Quadruple primary neoplasms of the skin, colon, kidney and chronic lymphatic leukemia: a case report. BioMedicine and Surgery, 1(1), 64–66. https://doi.org/10.5281/zenodo.1004585
License
Articles in BioMedicine and Surgery are published under Creative Commons Attribution-NonCommercial-NoDerivatives 4.0 International license. Full text of Attribution-NonCommercial-NoDerivatives 4.0 International license can be viewed at https://creativecommons.org/licenses/by-nc-nd/4.0/legalcode.