Pancreatic cancer and nutrition
Keywords:
cachexia, malignant neoplasms, enteral nutrition
Abstract
Although there was a progress in surgical and oncological treatment of pancreatic cancer in a recent decade, pancreatic cancer remains a disease with a dismal prognosis, with 5-year survival of only 5 percent. Operable pancreatic cancer patients have better prognosis (around 25 percent are still alive after 5 years), but most of the patients are inoperable at the time of diagnosis. Considering low operability and higher tendency for weight loss and tumor-induced systemic inflammation, pancreatic cancer patients have high incidence of cachexia. Cachexia in cancer patients is associated with lower quality of life, shorter survival and lower tolerance of anti-tumor therapy. All pancreatic cancer patients, both with operable, inoperable or disseminated disease, should be screened and treated for cachexia. Nowadays, treatment of cachexia should me multimodal and multidisciplinary.
References
1. Incidence of cancer in Croatia in 2014. 39 ed. Zagreb: Croatian Institute for Public Health Cancer registry; 2016.
2. Porta M, Fabregat X, Malats N, Guarner L, Carrato A, de Miguel A, Ruiz L, Jariod M, Costafreda S, Coll S, Alguacil J, Corominas JM, Sola R, Salas A, Real FX. Exocrine pancreatic cancer: symptoms at presentation and their relation to tumour site and stage. Clinical & translational oncology : official publication of the Federation of Spanish Oncology Societies and of the National Cancer Institute of Mexico. 2005;7(5):189-197.
3. Buchler MW, Wagner M, Schmied BM, Uhl W, Friess H, Z'Graggen K. Changes in morbidity after pancreatic resection: toward the end of completion pancreatectomy. Archives of surgery (Chicago, Ill : 1960). 2003;138(12):1310-1314; discussion 1315. doi: 10.1001/archsurg.138.12.1310.
4. Cameron JL, He J. Two thousand consecutive pancreaticoduodenectomies. Journal of the American College of Surgeons. 2015;220(4):530-536. doi: 10.1016/j.jamcollsurg.2014.12.031.
5. Yeo CJ, Cameron JL, Sohn TA, Lillemoe KD, Pitt HA, Talamini MA, Hruban RH, Ord SE, Sauter PK, Coleman J, Zahurak ML, Grochow LB, Abrams RA. Six hundred fifty consecutive pancreaticoduodenectomies in the 1990s: pathology, complications, and outcomes. Annals of surgery. 1997;226(3):248-257; discussion 257-260.
6. Bassi C, Falconi M, Salvia R, Mascetta G, Molinari E, Pederzoli P. Management of complications after pancreaticoduodenectomy in a high volume centre: results on 150 consecutive patients. Digestive surgery. 2001;18(6):453-457; discussion 458.
7. Gouma DJ, van Geenen RC, van Gulik TM, de Haan RJ, de Wit LT, Busch OR, Obertop H. Rates of complications and death after pancreaticoduodenectomy: risk factors and the impact of hospital volume. Annals of surgery. 2000;232(6):786-795.
8. Richter A, Niedergethmann M, Sturm JW, Lorenz D, Post S, Trede M. Long-term results of partial pancreaticoduodenectomy for ductal adenocarcinoma of the pancreatic head: 25-year experience. World journal of surgery. 2003;27(3):324-329. doi: 10.1007/s00268-002-6659-z.
9. Wigmore SJ, Plester CE, Richardson RA, Fearon KC. Changes in nutritional status associated with unresectable pancreatic cancer. British journal of cancer. 1997;75(1):106-109.
10. Mueller TC, Burmeister MA, Bachmann J, Martignoni ME. Cachexia and pancreatic cancer: are there treatment options? World journal of gastroenterology. 2014;20(28):9361-9373. doi: 10.3748/wjg.v20.i28.9361.
11. Fearon KC, Baracos VE. Cachexia in pancreatic cancer: new treatment options and measures of success. HPB : the official journal of the International Hepato Pancreato Biliary Association. 2010;12(5):323-324. doi: 10.1111/j.1477-2574.2010.00178.x.
12. Fearon K, Strasser F, Anker SD, Bosaeus I, Bruera E, Fainsinger RL, Jatoi A, Loprinzi C, MacDonald N, Mantovani G, Davis M, Muscaritoli M, Ottery F, Radbruch L, Ravasco P, Walsh D, Wilcock A, Kaasa S, Baracos VE. Definition and classification of cancer cachexia: an international consensus. The Lancet Oncology. 2011;12(5):489-495. doi: 10.1016/s1470-2045(10)70218-7.
13. Fearon K, Arends J, Baracos V. Understanding the mechanisms and treatment options in cancer cachexia. Nature reviews Clinical oncology. 2013;10(2):90-99. doi: 10.1038/nrclinonc.2012.209.
14. Balentine CJ, Enriquez J, Fisher W, Hodges S, Bansal V, Sansgiry S, Petersen NJ, Berger DH. Intra-abdominal fat predicts survival in pancreatic cancer. Journal of gastrointestinal surgery : official journal of the Society for Surgery of the Alimentary Tract. 2010;14(11):1832-1837. doi: 10.1007/s11605-010-1297-5.
15. Martin L, Birdsell L, Macdonald N, Reiman T, Clandinin MT, McCargar LJ, Murphy R, Ghosh S, Sawyer MB, Baracos VE. Cancer cachexia in the age of obesity: skeletal muscle depletion is a powerful prognostic factor, independent of body mass index. Journal of clinical oncology : official journal of the American Society of Clinical Oncology. 2013;31(12):1539-1547. doi: 10.1200/jco.2012.45.2722.
16. Tan BH, Birdsell LA, Martin L, Baracos VE, Fearon KC. Sarcopenia in an overweight or obese patient is an adverse prognostic factor in pancreatic cancer. Clinical cancer research : an official journal of the American Association for Cancer Research. 2009;15(22):6973-6979. doi: 10.1158/1078-0432.ccr-09-1525.
17. Bartosch-Härlid A, Andersson R. Cachexia in pancreatic cancer – Mechanisms and potential intervention. e-SPEN. 2009;4(6):e337-e343. doi: 10.1016/j.eclnm.2009.10.002.
18. Fearon KC. Cancer cachexia: developing multimodal therapy for a multidimensional problem. European journal of cancer (Oxford, England : 1990). 2008;44(8):1124-1132. doi: 10.1016/j.ejca.2008.02.033.
19. Afaneh C, Gerszberg D, Slattery E, Seres DS, Chabot JA, Kluger MD. Pancreatic cancer surgery and nutrition management: a review of the current literature. Hepatobiliary surgery and nutrition. 2015;4(1):59-71. doi: 10.3978/j.issn.2304-3881.2014.08.07.
20. Arends J, Bachmann P, Baracos V, Barthelemy N, Bertz H, Bozzetti F, Fearon K, Hutterer E, Isenring E, Kaasa S, Krznaric Z, Laird B, Larsson M, Laviano A, Muhlebach S, Muscaritoli M, Oldervoll L, Ravasco P, Solheim T, Strasser F, de van der Schueren M, Preiser JC. ESPEN guidelines on nutrition in cancer patients. Clinical nutrition (Edinburgh, Scotland). 2017;36(1):11-48. doi: 10.1016/j.clnu.2016.07.015.
21. Lassen K, Coolsen MM, Slim K, Carli F, de Aguilar-Nascimento JE, Schafer M, Parks RW, Fearon KC, Lobo DN, Demartines N, Braga M, Ljungqvist O, Dejong CH, Enhanced Recovery After Surgery Society fPC, European Society for Clinical N, Metabolism, International Association for Surgical M, Nutrition. Guidelines for perioperative care for pancreaticoduodenectomy: Enhanced Recovery After Surgery (ERAS(R)) Society recommendations. World journal of surgery. 2013;37(2):240-258. doi: 10.1007/s00268-012-1771-1.
22. Barber MD, McMillan DC, Preston T, Ross JA, Fearon KC. Metabolic response to feeding in weight-losing pancreatic cancer patients and its modulation by a fish-oil-enriched nutritional supplement. Clinical science (London, England : 1979). 2000;98(4):389-399.
23. Barber MD, Ross JA, Voss AC, Tisdale MJ, Fearon KC. The effect of an oral nutritional supplement enriched with fish oil on weight-loss in patients with pancreatic cancer. British journal of cancer. 1999;81(1):80-86. doi: 10.1038/sj.bjc.6690654.
24. Kraft M, Kraft K, Gartner S, Mayerle J, Simon P, Weber E, Schutte K, Stieler J, Koula-Jenik H, Holzhauer P, Grober U, Engel G, Muller C, Feng YS, Aghdassi A, Nitsche C, Malfertheiner P, Patrzyk M, Kohlmann T, Lerch MM. L-Carnitine-supplementation in advanced pancreatic cancer (CARPAN)--a randomized multicentre trial. Nutrition journal. 2012;11:52. doi: 10.1186/1475-2891-11-52.
25. Moses AW, Slater C, Preston T, Barber MD, Fearon KC. Reduced total energy expenditure and physical activity in cachectic patients with pancreatic cancer can be modulated by an energy and protein dense oral supplement enriched with n-3 fatty acids. British journal of cancer. 2004;90(5):996-1002. doi: 10.1038/sj.bjc.6601620.
26. Bruera E, Roca E, Cedaro L, Carraro S, Chacon R. Action of oral methylprednisolone in terminal cancer patients: a prospective randomized double-blind study. Cancer treatment reports. 1985;69(7-8):751-754.
27. Moertel CG, Schutt AJ, Reitemeier RJ, Hahn RG. Corticosteroid therapy of preterminal gastrointestinal cancer. Cancer. 1974;33(6):1607-1609.
28. Popiela T, Lucchi R, Giongo F. Methylprednisolone as palliative therapy for female terminal cancer patients. The Methylprednisolone Female Preterminal Cancer Study Group. European journal of cancer & clinical oncology. 1989;25(12):1823-1829.
29. Ruiz Garcia V, Lopez-Briz E, Carbonell Sanchis R, Gonzalvez Perales JL, Bort-Marti S. Megestrol acetate for treatment of anorexia-cachexia syndrome. The Cochrane database of systematic reviews. 2013(3):CD004310. doi: 10.1002/14651858.CD004310.pub3.
30. Cannabis In Cachexia Study Group, Strasser F, Luftner D, Possinger K, Ernst G, Ruhstaller T, Meissner W, Ko YD, Schnelle M, Reif M, Cerny T. Comparison of orally administered cannabis extract and delta-9-tetrahydrocannabinol in treating patients with cancer-related anorexia-cachexia syndrome: a multicenter, phase III, randomized, double-blind, placebo-controlled clinical trial from the Cannabis-In-Cachexia-Study-Group. Journal of clinical oncology : official journal of the American Society of Clinical Oncology. 2006;24(21):3394-3400. doi: 10.1200/jco.2005.05.1847.
31. Mantovani G, Maccio A, Madeddu C, Serpe R, Antoni G, Massa E, Dessi M, Panzone F. Phase II nonrandomized study of the efficacy and safety of COX-2 inhibitor celecoxib on patients with cancer cachexia. Journal of molecular medicine (Berlin, Germany). 2010;88(1):85-92. doi: 10.1007/s00109-009-0547-z.
32. Solheim TS, Fearon KC, Blum D, Kaasa S. Non-steroidal anti-inflammatory treatment in cancer cachexia: a systematic literature review. Acta oncologica (Stockholm, Sweden). 2013;52(1):6-17. doi: 10.3109/0284186x.2012.724536.
33. Goldberg RM, Loprinzi CL, Mailliard JA, O'Fallon JR, Krook JE, Ghosh C, Hestorff RD, Chong SF, Reuter NF, Shanahan TG. Pentoxifylline for treatment of cancer anorexia and cachexia? A randomized, double-blind, placebo-controlled trial. Journal of clinical oncology : official journal of the American Society of Clinical Oncology. 1995;13(11):2856-2859. doi: 10.1200/jco.1995.13.11.2856.
34. Penna F, Minero VG, Costamagna D, Bonelli G, Baccino FM, Costelli P. Anti-cytokine strategies for the treatment of cancer-related anorexia and cachexia. Expert opinion on biological therapy. 2010;10(8):1241-1250. doi: 10.1517/14712598.2010.503773.
35. Reid J, Mills M, Cantwell M, Cardwell CR, Murray LJ, Donnelly M. Thalidomide for managing cancer cachexia. The Cochrane database of systematic reviews. 2012(4):CD008664. doi: 10.1002/14651858.CD008664.pub2.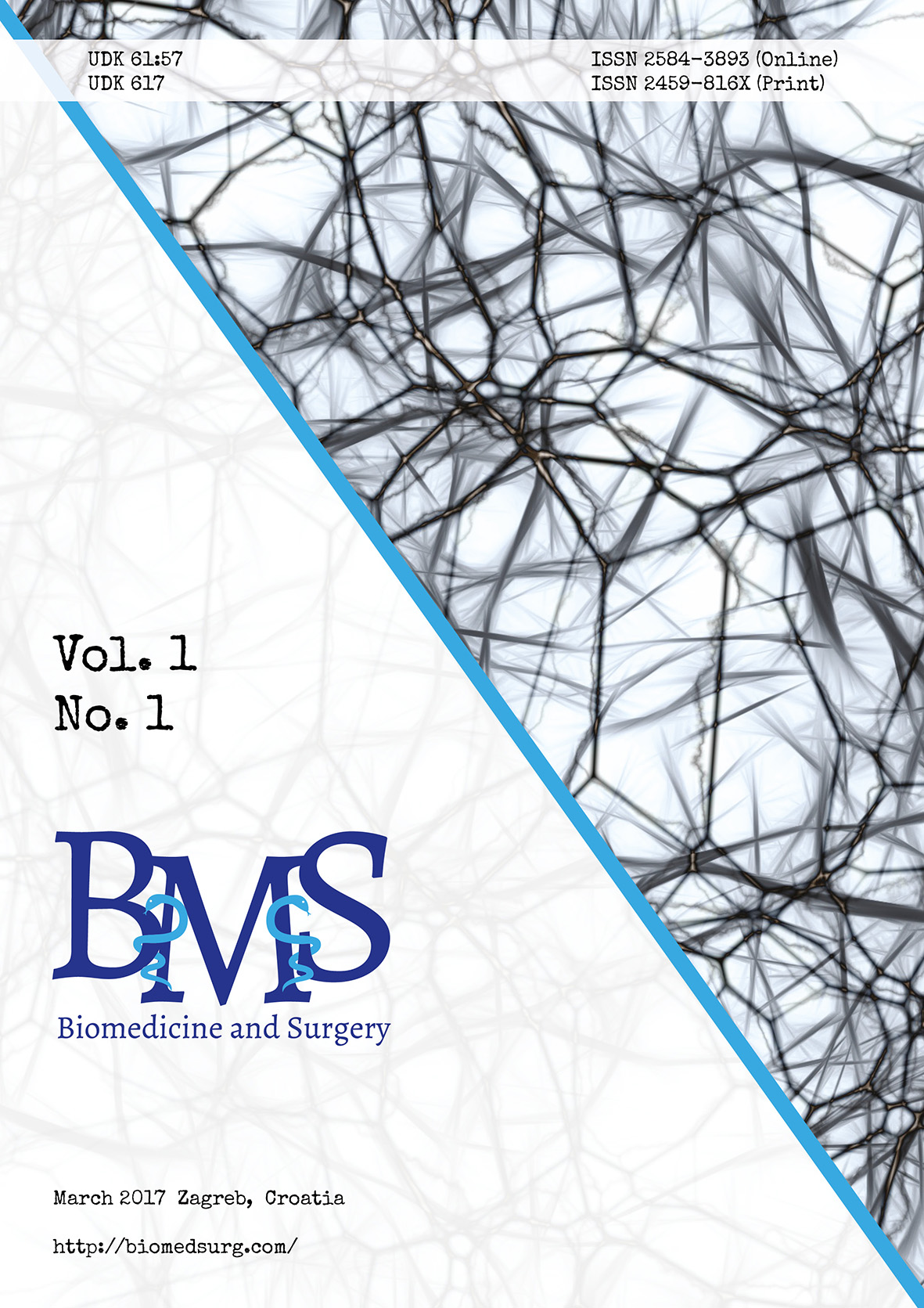 Downloads
How to Cite
Mužina Mišić, D., Zovak, M., & Čiček, S. (2017). Pancreatic cancer and nutrition. BioMedicine and Surgery, 1(1), 10–15. https://doi.org/10.5281/zenodo.1004579
License
Articles in BioMedicine and Surgery are published under Creative Commons Attribution-NonCommercial-NoDerivatives 4.0 International license. Full text of Attribution-NonCommercial-NoDerivatives 4.0 International license can be viewed at https://creativecommons.org/licenses/by-nc-nd/4.0/legalcode.