Percutaneous vertebroplasty: a short overview on one year implementation in our hospital
Keywords:
vertebroplasty, pain relief, treatment costs
Abstract
Percutaneous vertebroplasty represents a minimally invasive therapy used to relieve pain for osteoporotic or malignant fractures. In the first year of implementation, a total of 12 patients admitted in Dubrovnik County Hospital during year 2016 underwent this method. All patients were discharged from hospital the same day after procedure with pain relief. There were no complications.
References
1. Do HM. Percutaneous vertebroplasty: rationale, clinical outcomes, and future directions. Neuroimaging clinics of North America. 2003;13(2):343-363.
2. Centers for Medicare and Medicaid Services, United States Department of Health & Human Services. [May 10th, 2005]; Available from: www.cms.gov.
3. Agris J, Hussain N, Gailloud P, Murphy K. Meta-analysis comparing the in vivo cement extravasation rates for vertebroplasty and kyphoplasty. American Society of Spine Radiology; February 15-19, 2004; Miamy, Florida, USA.
4. Buchbinder R, Golmohammadi K, Johnston RV, Owen RJ, Homik J, Jones A, Dhillon SS, Kallmes DF, Lambert RG. Percutaneous vertebroplasty for osteoporotic vertebral compression fracture. The Cochrane database of systematic reviews. 2015(4):CD006349. doi: 10.1002/14651858.CD006349.pub2.
5. Robinson Y, Olerud C. Vertebroplasty and kyphoplasty--a systematic review of cement augmentation techniques for osteoporotic vertebral compression fractures compared to standard medical therapy. Maturitas. 2012;72(1):42-49. doi: 10.1016/j.maturitas.2012.02.010.
6. Clark WA, Diamond TH, McNeil HP, Gonski PN, Schlaphoff GP, Rouse JC. Vertebroplasty for painful acute osteoporotic vertebral fractures: recent Medical Journal of Australia editorial is not relevant to the patient group that we treat with vertebroplasty. The Medical journal of Australia. 2010;192(6):334-337.
7. Itshayek E, Miller P, Barzilay Y, Hasharoni A, Kaplan L, Fraifeld S, Cohen JE. Vertebral augmentation in the treatment of vertebral compression fractures: review and new insights from recent studies. Journal of clinical neuroscience : official journal of the Neurosurgical Society of Australasia. 2012;19(6):786-791. doi: 10.1016/j.jocn.2011.12.015.
8. Buchbinder R, Osborne RH, Ebeling PR, Wark JD, Mitchell P, Wriedt C, Graves S, Staples MP, Murphy B. A randomized trial of vertebroplasty for painful osteoporotic vertebral fractures. The New England journal of medicine. 2009;361(6):557-568. doi: 10.1056/NEJMoa0900429.
9. Wang LJ, Yang HL, Shi YX, Jiang WM, Chen L. Pulmonary cement embolism associated with percutaneous vertebroplasty or kyphoplasty: a systematic review. Orthopaedic surgery. 2012;4(3):182-189. doi: 10.1111/j.1757-7861.2012.00193.x.
10. Montagu A, Speirs A, Baldock J, Corbett J, Gosney M. A review of vertebroplasty for osteoporotic and malignant vertebral compression fractures. Age and ageing. 2012;41(4):450-455. doi: 10.1093/ageing/afs024.
11. Mehio AK, Lerner JH, Engelhart LM, Kozma CM, Slaton TL, Edwards NC, Lawler GJ. Comparative hospital economics and patient presentation: vertebroplasty and kyphoplasty for the treatment of vertebral compression fracture. AJNR American journal of neuroradiology. 2011;32(7):1290-1294. doi: 10.3174/ajnr.A2502.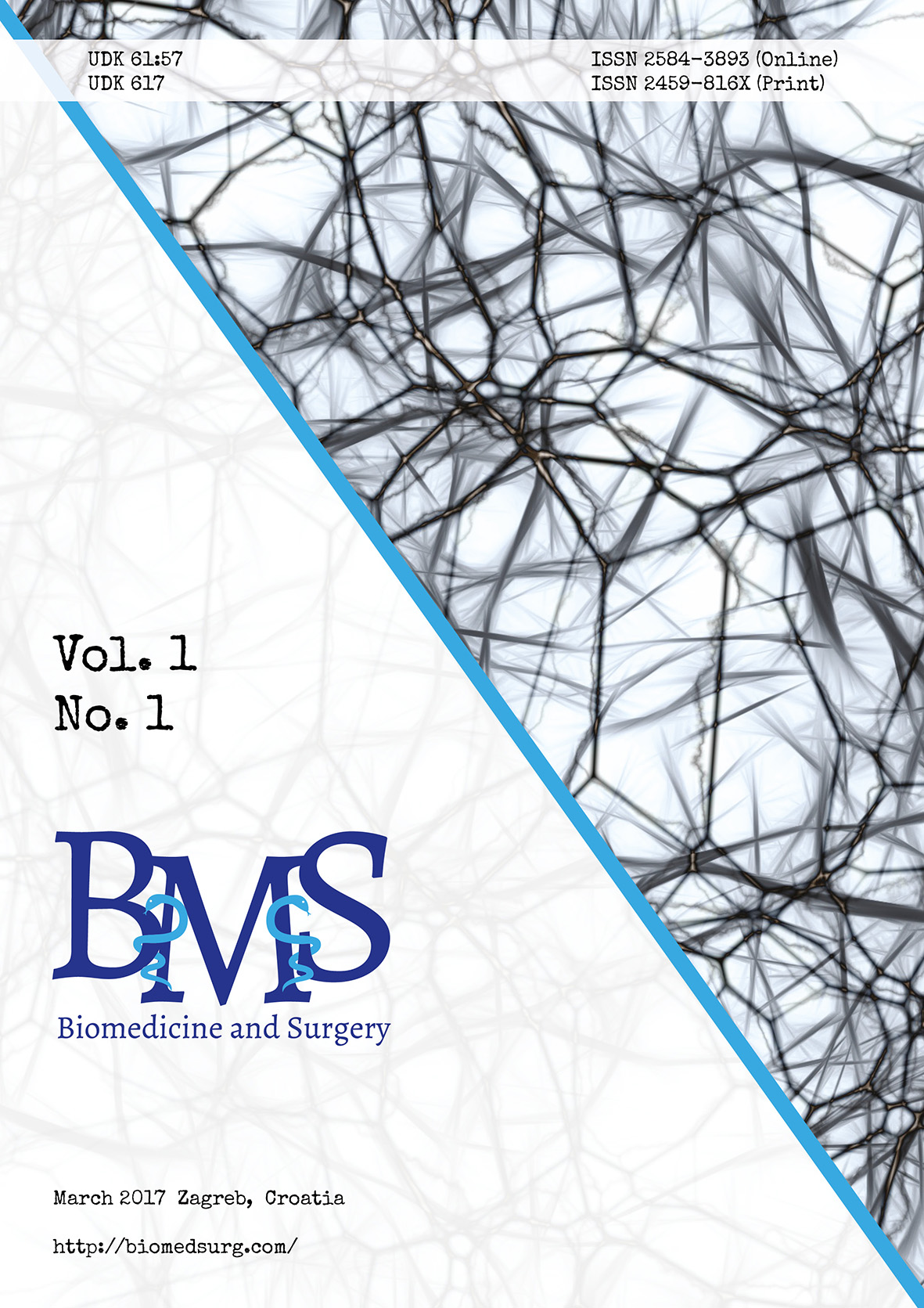 Downloads
How to Cite
Bekic, M., Kosović, V., Golubović, M., Lojpur, J., Mikolaučić, M., & Asatryan, G. (2017). Percutaneous vertebroplasty: a short overview on one year implementation in our hospital. BioMedicine and Surgery, 1(1), 6–9. https://doi.org/10.5281/zenodo.1004573
License
Articles in BioMedicine and Surgery are published under Creative Commons Attribution-NonCommercial-NoDerivatives 4.0 International license. Full text of Attribution-NonCommercial-NoDerivatives 4.0 International license can be viewed at https://creativecommons.org/licenses/by-nc-nd/4.0/legalcode.